Resizing text via the web browser
Internet Explorer: View > Text size > Larger - Smaller
Firefox: View > Text Size > Increase or Decrease
Opera: File > Preferences > Fonts > Minimum font size (pixels) OR View > Zoom
Safari: View > Make text bigger – Make text smaller
Alternatively, scroll with the wheel of your mouse whilst holding down the control key.
---
Setting your computer to display larger fonts (PC)
By default, computers display fonts at the normal size of 100%. You can custom this setting by increasing the percentage from 125% to 500%.

Go to: Start > Control Panel > Display > Appearance > Font Size > change it to large or extra large
---
Using the zoom options (MAC OS X)
To enlarge screen data without changing the screen resolution you can use simple keyboard shortcuts to zoom in and out, select the following keys to operate this function: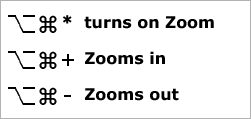 option apple star (turns zoom function on)
option apple + (zooms in)
option apple - (zooms out)
---
Screen resolution
There are several ways you can enlarge the data viewed on your computer, but the first thing you should check is the screen resolution of your monitor. Your monitor will have a recommended screen resolution size, but maybe the settings have been altered or alternatively, you could alter the settings to best suit your visual requirements. Below is a list of common screen size options, your monitor may not display all these options, but take into consideration the higher the resolution, the smaller the screen data will appear.
| PC screen resolutions | Mac screen resolutions |
| --- | --- |
| 640 by 480 pixels | 800 by 600 pixels |
| 800 by 600 pixels | 1024 by 768 pixels |
| 1024 by 768 pixels | 1280 by 820 pixels |
| 1152 by 864 pixels | 1600 by 1024 pixels |
Popular screen resolutions used are 800x600 pixels and 1024x768 pixels. In some cases where visual disability is challenging 640x480 pixels is used.
---
Assistive software
The Libraries have a range of assistive software to support students with dyslexia or visual impairment.
Please ask for help in using these at the Library desk.
---
Demos and tutorials
You can adjust the appearance and behaviour of PC to enhance accessibility for specific vision, hearing, mobility, cognitive, and seizure-related needs. More comprehensive information about the latest accessibility features is available from Microsoft and Apple. Some features are also explained by video.

Apple Mac OS
Apple Accessibility
Accessibility Mac OS X
Windows 7
Accessibility in Windows 7
Video Demos

Windows Vista
Accessibility in Windows Vista
Video Demos of Accessibility in Windows Vista
Windows XP
Windows XP Accessibility Resources
Video Demos of Accessibility in Windows XP