LinkedIn Learning
It provides over 6000 expert-led courses in three main areas: business, technology and creative skills:

* Adobe Creative Suite
* Maya
* Web Design and Development
* Microsoft Office Suite
* Leadership and Management
* CAD
* Communication and presentation skills

LinkedIn Learning also offers dozens of Learning Paths, or series of courses in which industry experts teach valuable career knowledge and skills. These include Learning Paths in Animation, Web Development and Digital Marketing which may compliment course-based learning.
Accessing LinkedIn Learning via this link
How you login depends on whether or not you've connected you LinkedIn Learning and LinkedIn profiles.

If you've connected LinkedIn Learning and LinkedIn profiles, sign in using the email address and password you use on LinkedIn.

If you have not connected your profiles, select 'Sign in with your organizational account' and enter your LinkedIn Learning login.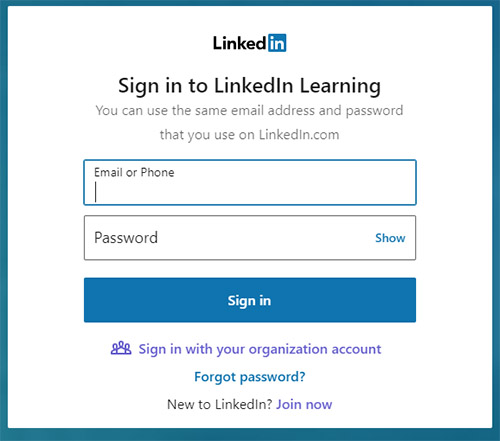 Alternately, you may visit https://www.linkedin.com/learning/login-ent which will take you directly to the organisational account login page.
New Users: Registering a LinkedIn account
You must have a current UCA email address in order to register for a LinkedIn Learning account.
Note: If you previously had a Lynda.com account through UCA, skip to the Returning Users section below.

To register for LinkedIn Learning, you will need to use the link below:
https://www.linkedin.com/learning/activate

You will need to use your UCA email address to register, for example:
Staff: username@ucreative.ac.uk
Students: username@students.ucreative.ac.uk
Returning Users: Activating LinkedIn Learning
1. Activate your LinkedIn Learning account by clicking the link in the confirmation email you received. The email was sent to the address you used on Lynda.com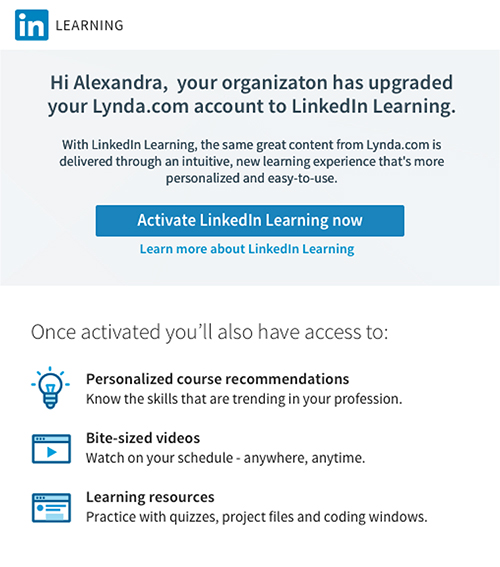 2. When prompted, decide if you wish to connect your LinkedIn account, or create a separate Learning account. (You do not need to connect your LinkedIn account.)
Note: if you choose to connect to your LinkedIn profile, only your learning data will be shared with your employer. No other data from your LinkedIn profile will be accessible or shared. Please refer to the LinkedIn Learning Privacy Information and the University's LinkedIn Learning Privacy Information.
3. You should receive the following screen when successfully set up.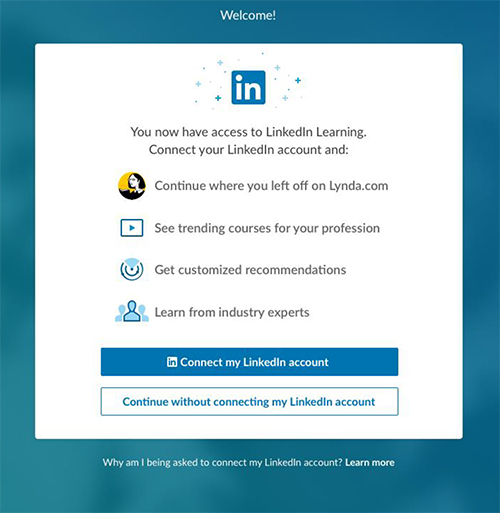 4. If you chose to connect to your LinkedIn account, you'll be prompted to log into LinkedIn.
** Optional **: If do not have an account, you can create a LinkedIn account at this stage.